Princeton Conference & Meeting Center
With over 60,000 square feet of IACC certified meeting space and 54 rooms, our Princeton conference and meeting center provides guests with everything they need to host an exceptional professional or social event in Princeton, NJ.
Many of our Princeton meeting or conference rooms are named after notable alumni and faculty members of Princeton University, each offering an elegant, modern design-ideal for any kind of gathering. There are multiple layout options available for each room, ensuring your event can look exactly as you've envisioned it. Our hotel is in close proximity to major businesses like Novo Nordisk, Bristol-Myers Squibb, and Sandoz, making us the ideal place to host large and small scale corporate events.
Many of our meeting rooms feature windows that look out onto the lake, creating a serene ambiance for your event. Our on-site certified meeting and event planners will walk through the entire event planning process, as we offer numerous seating styles to accommodate any type of event you may be having.
Whether you`re hosting a small family reunion of 25 or a large annual conference of 400, we have the perfect meeting space for you.
Click To View Our Conference Center Floor Plan
Click To View Our Meeting Room Size Information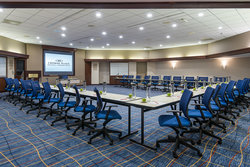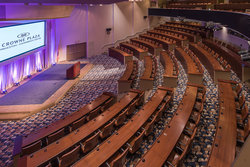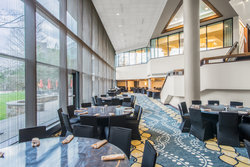 Amphitheater

By far the largest venue on our property, our Amphitheatre is home to large-scale events and conferences throughout the year. The 360-seat amphitheatre is perfect for large conferences and events.
Amenities
Each meeting space and conference center in our Princeton hotel comes with a bevy of amenities designed to ensure each event goes off without a hitch!
Say goodbye to spotty hotel Wi-Fi- every meeting space in our hotel comes with high-speed internet. Need more? Checkout our upgraded W-Fi package!
A/V equipment is available upon request.
A private on-site Helipad allows all guests to arrive on time and in style!
Catering options that are prepared by our Executive Chef and culinary team.
Our well-trained event planners are always on-hand to ensure you make the most out of our inclusive event spaces.
Click Here To View Our Catering Menu
Outdoor Space
In addition to our indoor conference center, our hotel offers an impressive amount of outdoor event space! host your next family reunion, outdoor meeting, wedding, or social event on our beautiful grounds!
Meeting Packages
Take advantage of our hotel's meeting packages! Guests hosting a large-scale, multi-day event can enjoy all the amenities that come with our Complete Meeting Packages, while guests looking to utilize our space for a day can do so with our Day Meeting Packages.
Click Here To View Our Meeting & Event RFP
Recommended Team Building Activities